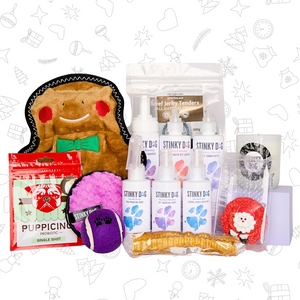 Pamper Your Pooch This Festive Season!

Please Note: Due to the volume of orders, our Christmas gift packs will be dispatched from the 20th of Nov.
Treat your furry friend to the ultimate holiday delight with our exclusive Stinky Dog Christmas Gift Packs! Each gift pack is filled with a selection of our top-selling grooming essentials, tantalising treats, a playful toy, and an assortment of goodies designed to keep tails wagging.
Not only will these delight your pup on Christmas Day, these packs will ensure your dog stays fresh, clean, and pampered throughout the festive season.
This pack also features a special treat for the human too—a hand-poured Australian made soy candle. Its fragrance embodies a modern scent of Christmas in the Australian summer, creating a festive atmosphere with your loved ones and furry friends.
With limited availability, these exclusive gift packs are expected to fly off the shelves. Don't miss out on this opportunity to give your dog a holiday to remember!
Hurry, grab yours before they're gone!
Gift pack contents include;
Zippy Paws Holiday Z-Stitch Gingerbread Man Plush Squeaker - features reinforced stitching, no stuffing, suitable for moderate chewers (dimensions:

 approx. 28cm x 23cm x 5cm)

500g Pooch Treats Beef Tenders (b

eef, humectant, soy, fibre, antioxidant, natural preservative)

L'Barkery Puppicino Single Shot Egg Nog Flavour (powdered yogurt,  cultured milk plus 

added egg for protein, vitamins and rich in many essential amino and fatty acids, as well as folate, iron, selenium, and riboflavin, which can all provide an array of health benefits, ranging from improved skin and coat health to stronger teeth and bones)

Pawfect Treates Santa Biscuit (high protein flour, free range eggs, coconut oil, halal certified vegetable oil, salt, carob, yoghurt, corn syrup, cornstarch, artificial colours and flavours, sugars)
Single Shark Cartilage Chew  (100% shark)
Pet Tennis Ball
Australian Made Hand Poured Soy Candle (Blackcurrant, Lemon, 

Fir Needle, Pine, Frankincense and Myrrh, Nutmeg, Cinnamon, Clove)

Stinky Dog Cleansing & Refreshing Extra Strength Pet Shampoo 250mL
Stinky Dog Cleansing & Refreshing Pet Conditioner 250mL
Stinky Dog Cleansing & Refreshing Waterless Pet Shampoo 200mL
Stinky Dog Cleansing & Refreshing Grooming Spray 125mL
Care & Protect Natural Insect spray 125mL
Care & Protect Paw Hydrating Spray 125mL
Care & Protect Cleansing Pad