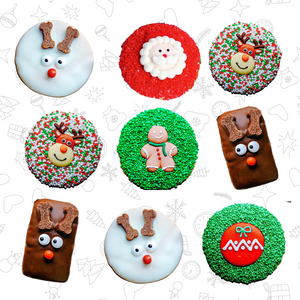 Merry Woofmas!
Treat your dog to a sensational holiday experience with the Pawfect Treats Christmas-themed assortment of delectable cookies. Crafted with care and precision in Australia, these adorable treats are more than just dog cookies – they're a joyous celebration of the season!

Each cookie is lovingly made using high-protein flour and the finest free-range eggs, ensuring a wholesome snack for your beloved pet. Measuring approximately 7cm in size, these cookies are perfectly portioned for a satisfying treat without overindulgence.

Individually wrapped for freshness and convenience, these cookies are a delightful surprise for your furry friend on Christmas morning. Whether as a standalone treat or part of a beautifully curated gift pack for a fellow pet enthusiast, these cookies add an extra dash of love and festive cheer.

Imagine the sheer delight on your pup's face as they sink their teeth into these scrumptious, specially crafted Christmas cookies! It's not just a treat; it's a moment of shared happiness, adding an extra sparkle to the holiday season.

Each cookie is;

Made with premium, high-quality ingredients
Individually wrapped for freshness and convenience
Perfectly sized for your furry friend's enjoyment
Made in Australia with care and dedication
Assorted designs available so choose your preferred style!
This Christmas, elevate your dog's holiday experience with our irresistible assortment of Christmas cookies – a surefire way to make tails wag and hearts melt with joy!
Ingredients : High protein flour, free range egg, vegetable oil, carob/yoghurt/carob powder, sugar, natural colours and flavours.
Note: Pet Food only. Equipment used to process this product may contain traces of nuts.