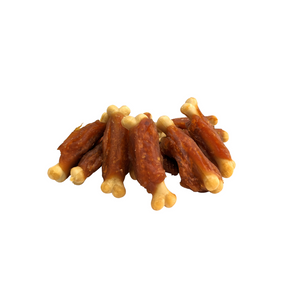 The Pawfect Treats Chicken Bix Wraps are a high reward treat with succulent chicken, wrapped around a high calcium biscuit. They are high protein and low fat and will send your dog crazy with deliciousness. *Not suitable for cats
Benefits:

Bone and muscle health


Ethically sourced

High reward
Ingredients: Chicken breast meat, wheat flour, milk powder, potato starch, lecithin (from soy), oligossaccharide (prebiotic fibre), salt
Nutritional analysis: 
Protein crude: 61% (min)

Fat crude:  2.0% (min)

Fibre: 0.7% (max)

Salt 0.01% (max)
Crack for dogs!
My dogs love these chicken biscuits and go crazy when they hear me opening the bag. The almost do backflips with excitement haha!