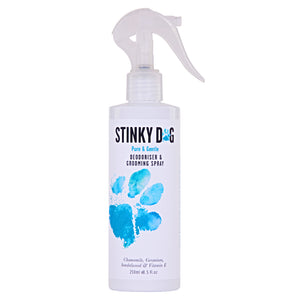 PURE & GENTLE – DEODORISER & GROOMING SPRAY 250ML
A premium quality hypoallergenic formulation containing natural ingredients sourced from the earth to ensure the gentlest wash for your furry friend.  Free from harsh chemicals, pH balanced, lightly scented and Australian made. 
What are the benefits
Enriched with high quality essential oils, natural ingredients and plant extracts
Gentle and non-irritating scent
Contains Vitamin E to aid with conditioning the coat
Is ideal for use as a deodoriser in between baths and/or to enhance your dog's groom during brushing/detangling
Great for use on rainy days to balance wet-dog odours
Ideal as a quick waterless bath by generously spraying the coat, brushing through and drying the excess with a towel or allowing to dry naturally
Gentle on human skin and safe for use on adult dogs, puppies, cats and kittens.  
This products contains
No silicones
No parabens, SLS, SLES or PEGS
No synthetic fragrances
No animal testing
Ingredients: Purified water, Chamomile, Geranium, Sandalwood, Glycerol, Sugar Cane Extract, Vitamin E, natural emulsifiers, Ethylhexylglycerin.
Note: All Stinky Dog products are recommended for use on healthy pets.  We do not recommend their use on pets with acute or chronic skin conditions, itching, flakiness, redness or persisting strong odours.  If so, please consult your Vet.   
Made in loving memory of Leo and for furry friends in need.
Amazing stuff
Loving all these products and it works wonders on my Groodle
Great product
Happy with the product. Our dog doesn't seem to mind it and doesn't irritate her skin
Great for in-between baths
I regularly groom my Pomeranian but he can get smelly in between grooming. He loves to roll on grass and run through bushes but bathing him often is not the answer. I've found the grooming and deodoriser so helpful for making my Pom smell great and feel clean. Even his coat looks shinier and feels softer. Beautiful natural products I feel confident using on my bestest friend.
Absolutely love it!!
I'm a dog groomer. This spray gives the dogs a fresh out of the bath smell that lasts! I'm also sensitive to a lot of perfumed dog colognes. This one was very subtle and didn't affect me in the slightest. I highly recommend this product
Amazing products
We have loved the products received from Stinky Dog. All gentle and smell amazing on my dogs coat. Customer service A++