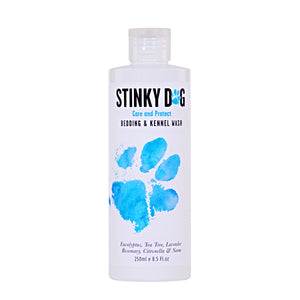 I'm cute and cuddly BUT, I'm stinky!
Stinky Dog Bedding & Kennel Wash has been professionally formulated to sanitise and deodorise your pet's bedding/blankets, crate/kennel and clothing. Its mild cleansing formulation eliminates stinky dog odours and leaves items smelling fresh and clean.  Enriched with Tea Tree and Eucalyptus oils for their disinfecting and odour neutralising properties plus Citronella, Neem and Lavender to deter insects and bugs. 
How to Use
Simply add 40mL of Bedding & Kennel Wash to 1 litre of water to clean and deodorise hard surfaces in your pet's living area i.e. kennel, crate, litter trays, vinyl upholstered bedding. A great idea is to pop it in a spray bottle so that you waste less product.
For bedding and clothing, just add 40mL to the washing cycle. However, always take care to read clothing and bedding care labels.
Our Products Are;
Made with natural Australian essential oils
Not tested on animals
Paraben and dye free
Made in Australia 
Recyclable packaging
Ingredients: Water, Mild Cleansing Solution, Eucalyptus Oil, Tea Tree Oil, Rosemary Oil, Lavender Oil, Citronella Oil, Neem Oil.

Made in loving memory of Leo and for furry friends in need.
Excellent
I purchased the whole range of the Stinky Dog cleansing and refreshing range along with the kennel wash and Stinky spray. I doubted it would work on my Blue Heeler pup but it has amazed me. Two weeks and no doggy smell even when she gets wet. It smells amazing when first washed then when it wears off still no stink. The kennel wash keeps her two beds fresh and no doggy smell inside the house which was my big fear of having our first indoor dog. I have recommended it to my house cleaner for her dog as she commented my house has no doggy smell either.
Easy
Easy to order and the items arrived quickly. The bedding wash leaves the dogs beds smelling better and the dogs smell good after using shampoo and conditioner.
Fantastic Product
Purchased the bedding wash, and am surprisingly impressed! Ziggy's blankets came out smelling fantastic, and the non doggy smell has so far lasted over a week.
Will definitely buy again.
Great product
My boy and his bedding smell amazing
amazing product !
Super happy with the bedding and kennel wash ! Smells lovely & not too overpowering + cleans everything up real well !