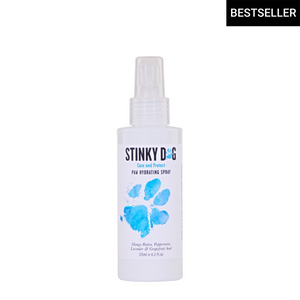 Paws-itively Hydrating!
Stinky Dog Paw Hydrating Spray has been professionally formulated to nourish and protect your pet's paws. It has an all natural formulation that is lightweight, non-greasy and gentle on their skin. Use it regularly after walks, exercise or on hot days to rehydrate and refresh paws.

What are the Benefits

Stinky Dog Paw Hydration Spray contains 100% plant derived ingredients so it is very gentle on skin
It contains nourishing Mango Butter and vegetable glycerine which naturally restore moisture to the paw pads

It soothes and rehydrates dry paws with a super absorbent and non-greasy formulation so your pet won't go sliding across the floor or leave an oily residue on carpet and soft furnishings
How to Use
Shake the product well then spray generously over your pet's paws and gently rub the product in. Repeat if necessary. Use up to three times daily to relieve dry paws.
Our Products Are
Made with natural Australian essential oils
Not tested on animals
Paraben and dye free
Made in Australia and
Have recyclable packaging
Ingredients: Water, Natural Moisturising Agents, Peppermint Oil, Lavender Oil, Grapefruit Seed Extract, Glycerin, Sunflower Oil, Paraben Free Preservative
Note: All Stinky Dog products are recommended for use on healthy pets.  We do not recommend their use on pets with acute or chronic skin conditions, itching, flakiness, redness or persisting strong odours.  If so, please consult your Vet.   
Made in loving memory of Leo and for furry friends in need.
Great product
Another great purchase! This beautiful moisturising spray works a treat. My little dog does not like her paws being touched normally but lets me massage this hydrating spray into them and looks like she is enjoying it. I even tried it on my friend's labrador's paws and she was the same, so I guess it must be like a foot massage for us. You can see the difference in the paws and no residue, smells great too. Love it!
Amazing product
I've started using this on my 2 staffys and have noticed an improvement after one treatment. I will definitely continue using the stinky dog range as their products are amazing and they have excellent customer service
Great Product
Our dog has dry paws due to eczema and you can notice a big difference after applying it. I don't think she minds the paw massage either
Awesome Products
Highly recommend these products our little Frenchie smells heavenly and her paws are soft and squishy.
We also got some of the insect repellent so she can lay around without being bitten by pesky mozzie!
Smells great
She loves it
We Loves it
A grooming essential
It's easy to use and dries up fairly quickly. I use it on my pups every 2 or 3 days to keep their paws hydrated and it smells good too!