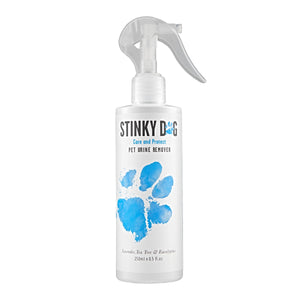 Don't Worry, Accidents Happen!
Part of raising a puppy or adult dog is ensuring they go to the toilet in the right place. However accidents are inevitable from time to time. The tricky thing is that dogs have an AMAZING sense of smell. Therefore if the urine odour is not immediately removed your dog will commence associating the spot on your nice rug as an 'ok' place to go. This is where our Pet Urine Remover can help.
Professionally formulated, Stinky Dog Pet Urine Remover neutralises your pet's urine odours and deter them from remarking the area. When used quickly it also prevents urine stains from forming. It's also enriched with Lavender, Eucalyptus and Tea Tree for their odour neutralising properties and to leave a fresh scent.
Non-toxic so safe for use around your pets and children. ⁠
Features:
Removes stains and odours caused by pet urine accidents around the home
Made with natural ingredients

Non-toxic to pets and children
Suitable for use on the urine of cats and other pets
Leaves a clean and fresh scent

Use it on various surfaces such as;
Carpets, timber floors, laminate flooring, concrete, vinyl floors, tiles
upholstery, pet beds, clothing and
other water-safe surfaces where pet stains and odours occur.
Note: always ensure to read care labels of upholstered fabrics and carpets or check for colour fastness in an inconspicuous area.
Ingredients: Vinegar, Cleanser, Lavender Oil, Tea Tree Oil and Eucalyptus Oil
⁠
 Made in loving memory of Leo and for furry friends in need.

Urine Stain Gone!!!
This product is amazing!!! Got rid of that smell and the stain is gone!!! Very happy and highly recommend
Great product that works
I was having trouble getting rid of urine smell even after drying it and using a scented anti bacterial wipe to clean it. I used this product and it was amazing. Works and has a great smell
Great for toilet training
Although we still struggling with the occasion wee inside we definitely think its working
The smell of this product is beautiful and refreshing
Urine remover spray
Love this product. Lovely subtle fragrance and gets rid of doggy accidents quick smart. Highly recommend ⭐️⭐️⭐️⭐️⭐️
The best!!!
Lasting and smells great. Love the freshness of the products. Will deff be buying more. Well packaged too 🔅