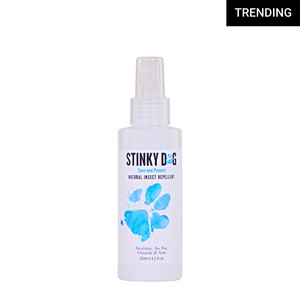 Does Your Dog Seem to Attract Insects Like Flies to...?
Stinky Dog Natural Insect Repellent has been professionally formulated with an effective blend of insect repelling essential oils to protect your pet. It contains natural plant based ingredients and is DEET free.
Enriched with Neem, Tea Tree and Citronella oils for their insect deterrent properties and Macadamia oil for its moisturising properties.  This natural product is safe for your pet and won't dry out their coat or skin. It's even safe for the humans to use*!
It's perfect for use against flying insects such as Flies, Mosquitoes, Marchflies, Sandflies and Midgies. 
How to Use
Shake the product well then lightly spray your pet's coat and skin.  Always avoid eye, ear and mouth areas.  
Our Products Are
Made with natural Australian essential oils
Not tested on animals
Paraben and dye free
Made in Australia 
Recyclable packaging
Stinky Dog Insect Repellent is not to be used in place of a Vet recommended Tick treatment or preventer.   
Ingredients: Water, Neem Oil, Eucalyptus Oil, Citronella Oil, Tea Tree Oil, Macadamia Nut Oil, Vanillin, Paraben Free Preservative.
Note: All Stinky Dog products are recommended for use on healthy pets.  We do not recommend their use on pets with acute or chronic skin conditions, itching, flakiness, redness or persisting strong odours.  If so, please consult your Vet.
*Neem oil is an essential oil that is contraindicated in pregnancy and breastfeeding.
Made in loving memory of Leo and for furry friends in need.
Stinky Dog is the best products !!
My little pug will only allow me to use Stinky Dog Ear Cleaner for his precious ears and it does such an amazing job at keeping them clean and clear of nasties - he is much happier with Stinky Dog. Highly Recimmended :)
Natural Insect Repellent
This is a fantastic product! No more flies annoying my big smelly dog. It smells pleasant too.
No more bites!
Care and Protect is a fantastic product, so pleased we discovered it. Our greyhound cross can now happily go on his walks without the worry of March fly bites! The product smells lovely too.
It's great
I bought this natural insect repellent for my mum's dog who used to get attacked by mosquitoes and March flies, now they don't go near him, thanks heaps to the team at stinky dog, I love supporting small Aussie businesses, I will definitely be back for more.