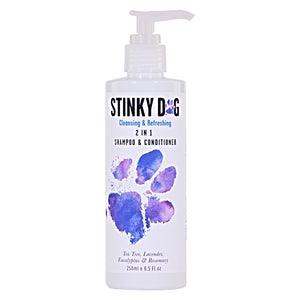 I'm cute and cuddly BUT, I'm stinky!
WARNING! May cause extra human sniffing, patting and cuddling!
Stinky Dog 2 in 1 Shampoo and Conditioner has been professionally formulated to gently cleanse and condition your furry friend's coat and skin in one easy step. Enriched with tea tree, a blend of natural extracts and other essential oils, our 2 in 1 reduces bath time whilst still providing a thorough clean. Perfect for pets with bath-time anxiety and for busy humans. 
What are the Benefits
Perfect for all breeds, Stinky Dog 2 in 1 Shampoo and Conditioner leaves no residue and restores health and vitality to your pet's coat and skin
Contains Tea Tree oil, and other essential oils, to sanitise the skin and coat as well as neutralise odours.
Has superior cleansing properties, leaving coats and skin brilliantly clean, healthy and soft
The dual action formulation conditions the coat while washing
Has is a mild acting formulation that is suitable for all skin types and gentle to the skin 
How to Use
Pump a small amount into the base of your hand, or directly onto your pets' wet coat, and work into a rich lather. More product may be required for larger breeds or longer coats. Repeat if required. Rinse thoroughly and towel dry. For best results, follow with Stinky Dog Grooming Spray and Stinky Dog Deodorising Spray. 
Note: this product has a slightly less viscous consistency due to the lower surfactant content however this does not impair the product's performance. Gentle for use on puppies also.
Our Products Are
Made with natural Australian essential oils
Not tested on animals
Paraben and dye free
Made in Australia and
Have recyclable packaging
Ingredients: Water, Coconut Based Cleanser, Natural Conditioning Agent, Tea Tree Oil, Eucalyptus Oil, Rosemary Oil, Lavender Oil, Citronella Oil, Paraben Free Preservative.

Note: All Stinky Dog products are recommended for use on healthy pets.  We do not recommend their use on pets with acute or chronic skin conditions, itching, flakiness, redness or persisting strong odours.  If so, please consult your Vet.     
Made in loving memory of Leo and for furry friends in need.
Love this
It makes my dogs smell amazing
The best
It's the best of the best shampoo. My dog doesn't smell and fur is great. Will buy more. Thanks stinky dog.
Only the best for Max
We have used stinky dog for several years now, and it's the only product we will now use. Top quality and actually works.
No more Stinky dog
Our German spitz has a very long double coat. We were weary of using the shampoo but it was fantastic and 3 weeks later she still smells fresh and her coat is tangle free and shiny.
Amazing product!
Great product, smelt good, didn't need much and made my pup super fluffy!