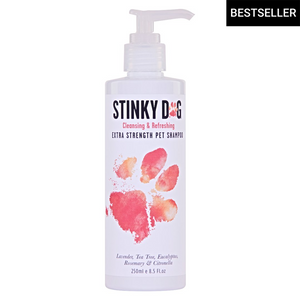 I'm cute and cuddly BUT, I'm stinky!
WARNING! May cause extra human sniffing, patting and cuddling!
Stinky Dog Extra Strength Pet Shampoo has been professionally formulated to cleanse and refresh large and extra stinky dogs and leaves them with an amazingly  refreshing aroma. Enriched with a concentrated blend of natural extracts and essential oils, our pet shampoo contains natural antibacterial and antiseptic properties to aid with neutralising strong odours.
What are the Benefits
Stinky Dog Extra Strength Shampoo is a mild cleansing formulation designed to maintain the healthy skin and coat for dogs who are more prone to odour
It provides superior cleansing properties whilst still aiding in the health and vitality to dry, lack-lustre coats
It thoroughly cleanses the coat and skin to leave it brilliantly clean and healthy
It contains natural essential oils to aid with neutralising strong odours and to help keep the skin and coat optimal condition
It has a mild acting formulation that is suitable for all breeds
How to Use
Pump a small amount into the base of your hand, or directly onto your pets' wet coat, and work into a rich lather. More product may be required for larger breeds or longer coats. Rinse well and repeat. For best results, follow with Stinky Dog Pet Conditioner. Want to keep them fresher for longer? Use the Stinky Dog Cleansing & Refreshing Pet Grooming Spray or Stinky Dog Pet Deodoriser in between baths.  
Our Products Are
Made with natural Australian essential oils
Not tested on animals
Paraben and dye free
Made in Australia and
Have recyclable packaging
Ingredients: Water, Coconut Based Cleanser, Tea Tree Oil, Eucalyptus Oil, Rosemary Oil, Lavender Oil, Citronella Oil, Paraben Free Preservative.
Note: All Stinky Dog products are recommended for use on healthy pets.  We do not recommend their use on pets with acute or chronic skin conditions, itching, flakiness, redness or persisting strong odours.  If so, please consult your Vet.   
Made in loving memory of Leo and for furry friends in need.
Absolutely Love This Shampoo
This shampoo is incredible! We washed our 5 large breed dogs (bull arabs and mastiffs) and they came out looking and smelling super clean. Days later they still smelt fresh even after they spent hours playing and rolling in the dirt. Other products in the past have sometimes left their coats not feeling as clean or have been too harsh for a couple of our sensitive skin dogs.
Will be buying again, and if it came in either a larger (~5L) container and/or a pump pack it would make washing that little bit easier. Can not recommend highly enough though, give Stinky Dog dog wash a try! It arrived quickly via post and loved the extra gift in the box of a tennis ball - even if it didn't last nearly as long as their fresh clean coats!
Dog shampoo
Best she's ever smelt!...great product
Very fresh smell
Love the shampoo - best smells and goes well on my sensitive dogs skins
Brilliant!
I've been looking for a product that really works on my stinky dog. This is it! After the first wash I immediately ordered some more, so I would never run out. It takes away the funkiness and leaves her smelling pleasantly doggy, with softer fur.