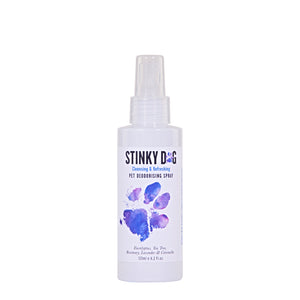 I'm cute and cuddly BUT, I'm stinky!
WARNING! May cause extra human sniffing, patting and cuddling!
Stinky Dog Pet Deodorising Spray has been professionally formulated to deodorise your furry friend's coat between washes and keep your pet smelling fresh and clean. Containing Tea Tree and Eucalyptus oils for their effective odour neutralising properties, the deodorising spray can also be used to refresh your pets' clothing and bedding.
What are the Benefits
Stinky Dog Pet Deodorising Spray is professionally formulated to gently neutralise pet odours from wet or dry coats
It is ideal for use between baths to remove odours and to keep your pet's coat fresh and clean
It is simple to use and effective on wet coats after bathing, on rainy days to reduce 'wet dog' smell or on dry coats in between baths
Contains essential oils to aid with refreshing and sanitising your pet's coat
How to Use
Shake the product before using then lightly spray your pet's coat and leave to dry naturally. It may also be used to deodorise your pet's bedding and clothing however always ensure to read care labels.
Our Products Are
Made with natural Australian essential oils
Not tested on animals
Paraben and dye free
Made in Australia and
Have recyclable packaging
Ingredients: Water, Alcohol, Glycerin, Eucalyptus Oil, Tea Tree Oil, Rosemary Oil, Lavender Oil, Citronella Oil, Sunscreen, Paraben Free Preservative.

Note: All Stinky Dog products are recommended for use on healthy pets.  We do not recommend their use on pets with acute or chronic skin conditions, itching, flakiness, redness or persisting strong odours.  If so, please consult your Vet.   
Made in loving memory of Leo and for furry friends in need.
Smells amazing
I really love this product, it smells amazing. It leaves my dogs coat feeling soft and smelling just beautiful. My daughter says our dog smells like she's just been to our groomer when I use it one her. Would definitely recommend.
Amazing products!
Fantastic products, especially for the in-between washes. Our puppy loves rolling in the dirt outside and now we don't need to stress about her smell. Stinky dog no more!
Amazing Spray
This deodorant is truly the best, the smell lasts well, ensuring my dog smells clean.
So true !
I searched " shampoo for stinky dog" .
It simply made me find you. Read all review and thought would not hurt to try. Then I've made second order to stock up ! It works !!!!!!!
We stopped calling her stinky 😉
Best coat deodorant we've used
Our boy is a short hair and can get pretty stinky! We've used half a dozen other brands- they smell nice but really just cover over the smell for a day then disappear. This deodorant smells great and lasts a long time- your hands actually smell good after petting him. It's great if you have guests over that are sensitive to smelly dog hands after petting. This is the best we've tried and we will be back for more.