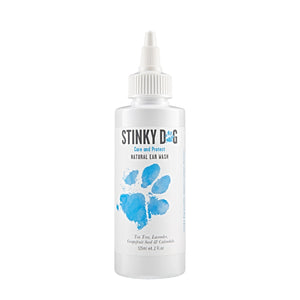 Happy Days are EAR!
** NEW SQUEEZABLE BOTTLE **
Ear infections are a common problem for many of our canine friends. Some dogs are also more prone to them than others. They can be very irritating and cause a lot of pain and discomfort. The Stinky Dog Natural Ear Wash has been formulated to help maintain optimal ear health by cleaning and sanitising the ear canal to prevent wax build up and infections from setting in. 
Formulated with a gentle cleansing base, this fantastic ear cleaner is free from thick and sticky substances, irritating chemicals and alcohol. The handy twist nozzle and squeeze bottle makes it easy to administer so this ear cleaner is not only effective but easy to use.

Features:
Natural and gentle ingredients
Free from alcohol 
Easy to use twist nozzle
Helps to sanitise the ear canal which aids in preventing ear infections
Reduces wax build up
How to use: Shake well before use. Apply a generous amount of ear wash in each of your pet's ears. Supporting their head to keep them still, massage the base of the ears for 30 seconds. Release their head and let them naturally shake the product out. Wipe away any excess product from the visible parts of the inner ear with a clean cloth or cotton pad. For animal treatment only. Keep out of reach of children. 
Ingredients: Water, mild cleansing solution, Tea Tree Oil, Lavender Oil, Grapefruit Seed extract, Calendula extract, Glycerin.
⁠
 Made in loving memory of Leo and for furry friends in need.

highly recommend
before using this product my boys still had build up which I couldn't get out until recently when I started using the natural ear wash, now I can clean all the gunk out each time and their ears have never looked or smelt better!!
Wonderful products
For our bullmastiff with some skin sensitivity we got the full shower range. Very happy with our selection and purchasing with the deal for lovely gifts!
Great product
I love the fact it's a natural product. I've used once since purchasing and although dogs usually fuss when cleaning their ears, it seemed to work well.
So easy to use!
Such a great product, so easy to use! Awesome addition to my oodle grooming products
Gentle and easy to use
Love this gentle ear cleanser - I use it weekly and our dogs don't mind it!