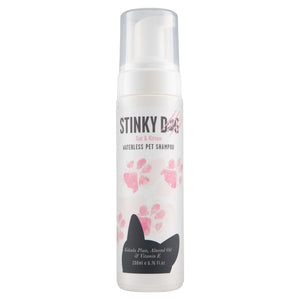 Move Over Fluffy Butts, the Cats are in Town!
They may be the cleaner species of our furry friends but their mischievous curiosity often gets them in dirty places which may result in needing an extra hand with their grooming.
The Stinky Dog Cat & Kitten Waterless Pet Shampoo has been formulated to cleanse our feline friends and remove environmental dirt, grime and dander without drying the coat or stripping natural oils.  It's a revolutionary and easy to use product that requires no wetting or rinsing. Professionally formulated by pet-care experts, it provides a thorough cleanse and leaves no irritating or harmful residue behind. It's gentle on your cat's skin and coat and purr-fect for water-hating cats & kittens. 
What are the Benefits

Cat & Kitten Waterless Pet Shampoo has a mild cleansing base to maintain healthy skin and optimal coat health
It refreshes the coat and adds vitality back to dry and lack-lustre coats
Leaves the coat refreshed and deodorised
It contains lick-safe natural essential oils that help to sanitise and neutralise odours
Leaves no irritating residue and has a mild acting formulation that is suitable for cats and kittens and
It's perfect for bath fearful friends or time poor humans.
How to Use
Pump foam directly onto your cat's coat or apply with a Stinky Dog Reusable Cleansing Pad, work it into the coat and then brush through. Towel off any excess if required or leave to dry naturally. 
Our products are:

Vegan
Made with plant based extracts
Contain Australian Essential Oils where possible

PH Balanced

Contain no parabens or dyes

Are not tested on animals

Contain no harsh chemicals

Made in Australia
Ingredients: Water, Coconut based cleanser, Kakadu Plum, Vegetable Amino Acids, Almond Oil, Vitamin E, Paraben-Free preservative
Note: All Stinky Dog products are recommended for use on healthy pets.  We do not recommend their use on pets with acute or chronic skin conditions, itching, flakiness, redness or persisting strong odours.  If so, please consult your Vet.   
Amazing
Perfect bath alternative. Leaves my cats fur soft, shiny and smelling clean and fresh. One of my favourite things for my cat.
My cat smells so good and his fur is super soft
My cat would much rather clean himself than have baths but lately he hasn't been doing such a good job of it. Not only does he smells funky but the condition of his fur wasn't too good either. And then I found Stinky Dog's waterless shampoo! My cat is a Maine coon, so pretty large but he didn't need that much shampoo, still did make a little bit of a fuss getting foamed and brushed but he now smells heavenly and very soft!! I'm amazed but the effects lasted so long, it's been three weeks and he still smells good! 🥰
No more smelly staffy!
So easy to use and our grubby boy is no longer stinky. We bought the cat waterless shampoo as it was recommended for sensitive skin - no irritation whatsoever and I'll bet the dog product would be fine for him too
Awesome!!
Smells amazing!! Makes my pets smell amazing between baths!
What an awesome product!
If you are wanting something to make your kitty cat smell better but no go through the stress of a bath, this is the BEST! I can highly recommend it!