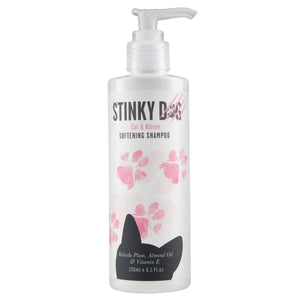 Move Over Fluffy Butts, the Cats are in Town!
They may be the cleaner species of our furry friends but their mischievous curiosity often gets them in dirty places which may result in needing an extra hand with their grooming.
The Stinky Dog Cat & Kitten Softening Shampoo has been formulated to cleanse our feline friends and remove environmental dirt, grime and dander without drying the coat or stripping natural oils.  Super-charged with conditioning amino acids and vitamin E, it has been designed to cleanse and condition your cat in one easy step. That's right, no conditioner required!
Professionally formulated by pet-care experts, our Softening Shampoo is gentle on your cat's skin and coat. It's purr-fect adult cats & kittens (over 12 weeks of age).
What are the Benefits

Cat & Kitten Waterless Pet Shampoo has a gentle cleansing base to maintain healthy skin and optimal coat health
It refreshes the coat and adds vitality back to dry and lack-lustre coats
Leaves the coat refreshed, conditioned and soft
It contains lick-safe natural essential oils that help to sanitise and neutralise odours and
Has a mild acting formulation that is suitable for cats and kittens (over 12 weeks of age).
How to Use
Pump a small amount into the base of your hand or directly onto your cat's wet coat and work into a lather. Rinse thoroughly and thoroughly towel dry.
Our products are:

Vegan
Made with plant based extracts
Contain Australian Essential Oils where possible

PH Balanced

Contain no parabens or dyes

Are not tested on animals

Contain no harsh chemicals

Made in Australia
Ingredients: Water, Coconut based cleanser, Kakadu Plum, Vegetable Amino Acids, Almond Oil, Vitamin E, Paraben-Free preservative
Note: All Stinky Dog products are recommended for use on healthy pets.  We do not recommend their use on pets with acute or chronic skin conditions, itching, flakiness, redness or persisting strong odours.  If so, please consult your Vet.   
No more stinky dog!
Such amazing customer service! And on top of that my puppy smells amazing! My puppy has such a strong dog smell and after washing him with normal dog shampoo, he'd still have that smell. With stinky dog shampoo, he's gone a whole week smelling amazing! So impressed and highly recommend if you have a smelly dog.