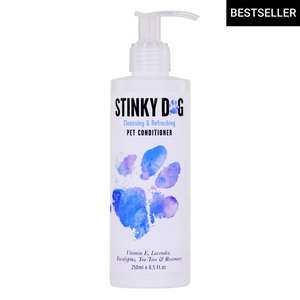 I'm cute and cuddly BUT, I'm stinky!
WARNING! May cause extra human sniffing, patting and cuddling!
Get ready to be wow-ed after using the Stinky Dog Pet Conditioner. Professionally formulated to deeply nourish your furry friend's coat and skin, leaving them feeling soft and ULTRA luxurious. Enriched with a blend of vitamin E and essential oils, our pet conditioner contains natural hydrating properties that help keep their coat healthy. 
What are the Benefits

Stinky Dog Pet Conditioner is formulated to gently condition and leave coats hydrated, tangle free and in optimal health
It leaves the coat silky and smooth to touch
It contains natural Australian essential oils and plant extracts to nourish and moisturise the coat
Stinky Dog Pet Conditioner contains natural essential oils that help maintain the optimal health of skin and coats

Is a mild acting formulation that is suitable for all breeds and puppies.
How to Use
After shampooing, apply enough conditioner to cover the coat and massage for 1-2 minutes. Rinse thoroughly and towel dry. For best results, follow with Stinky Dog Grooming Spray and/or Stinky Dog Deodorising Spray. Suitable for puppies. 
Our Products Are
Made with natural Australian essential oils
Not tested on animals
Paraben and dye free
Made in Australia and
Have recyclable packaging
Ingredients: Water, Natural Conditioner Base, Vitamin E, Tea Tree Oil, Eucalyptus Oil, Rosemary Oil, Lavender Oil, Citronella Oil, Paraben Free Preservative.
Note: All Stinky Dog products are recommended for use on healthy pets.  We do not recommend their use on pets with acute or chronic skin conditions, itching, flakiness, redness or persisting strong odours.  If so, please consult your Vet.   
Made in loving memory of Leo and for furry friends in need.
Smells amazing
I absolutely love this product. My cavoodle smells amazing after her bath with this conditioner. Easy to brush, no tangles and it makes her coat feel so soft.
Fantastic
Smells lovely and does the job for my 2 Cavoodles 😍
Smells amazing
I bought the shampoo and conditioner for our Cavoodle puppy. Her fur was left feeling beautifully soft and smelled amazing. I would recommend this product
Tangle Free Conditioner!
Absolutely the best conditioner I have used hands down. Let's me easily comb the prickles out of our poodle while wet, and keeps her hair basically prickle free for weeks.
Smells beautiful and a little bit goes a long way.
No more Stinky Dog here
I love these products. My staff smells beautiful after a bath and wash with these products. I've found they're the only thing that works. Thank you