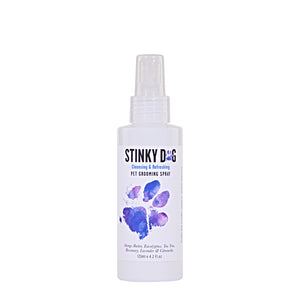 I'm cute and cuddly BUT, I'm stinky!
WARNING! May cause extra human sniffing, patting and cuddling!
Stinky Dog Pet Grooming Spray has been professionally formulated to aid with grooming, detangling and refreshing your furry friend's coat. Whilst suitable for all dogs, it is of particular benefit to breeds that have long, curly or knot prone coat. The unique blend of conditioning agents and essential oils release tangles and matting, leaving the coat feeling soft, shiny and manageable. 
What are the Benefits
Stinky Dog Pet Grooming 

Spray is professionally f

ormulated to aid with the easy release of tangles and matting from wet or dry coats
It is non-greasy and leaves coats manageable, tangle free and in optimal condition
Is suitable for all coat types and can be used between baths to refreshen, remove tangles and help to keep coats well groomed
Great to help with leaving coats in 'show' condition
Simple to use and is effective on wet or dry coats 
Great for use as a waterless bath and freshen up
How to Use
Shake the product well before using then apply an even mist over your pet's wet or dry coat. Leave for 1-2 minutes then brush or comb through for a beautiful, soft and silky finish. Allow to dry naturally.
Our Products Are
Made with natural Australian essential oils
Not tested on animals
Paraben and dye free
Made in Australia and
Have recyclable packaging
Ingredients: Water, Conditioning Agents, Eucalyptus Oil, Tea Tree Oil, Rosemary Oil, Lavender Oil, Citronella Oil, Paraben Free Preservative.

Note: All Stinky Dog products are recommended for use on healthy pets.  We do not recommend their use on pets with acute or chronic skin conditions, itching, flakiness, redness or persisting strong odours.  If so, please consult your Vet.   
Made in loving memory of Leo and for furry friends in need.
Great doggy perfume, love the smell!!
Incredible!
Used this for the first time on my Goldie and it smells beautiful! And the scent really lasts, I can smell when he comes into the room. I've used a few 'pet perfumes' now and this is by far the best one :)
Smells nice
Easy to use,great product
Amazing
Love all the products my fur baby is clean and smells amazing
Cleansing & Refreshing - Pet Grooming Spray | 125mL