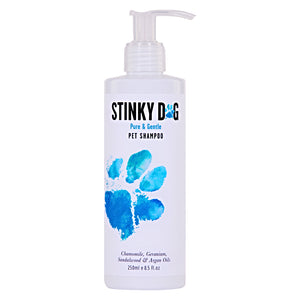 PURE & GENTLE - PET SHAMPOO 250ML
A premium quality hypoallergenic formulation containing all-natural ingredients sourced from the earth to ensure the gentlest wash for your furry friend.  Free from harsh chemicals, pH balanced, lightly scented and Australian made. 
Stinky Dog Pure & Gentle Pet Shampoo contains the purest ingredients to gently cleanse and nourish your furry friend's skin and coat. The formulation consists of plant extracts with natural antiseptic and hydrating properties that will leave your pet clean and refreshed. Carefully fragranced with Chamomile, Geranium and Sandalwood to leave a calming non-irritating aroma. Suitable for dogs, cats, puppies and kittens.
What are the benefits...
Stinky Dog Pure & Gentle Pet Shampoo is enriched with high quality essential oils, natural ingredients and plant extracts. This helps keep skin and coats in healthy condition
It contains antibacterial, antiseptic and hydrating properties that help leave your dog refreshed 
The formulation is also gentle on your skin and safe for use on adult dogs, puppies, cats and kittens. 
It has a hypoallergenic formulation and light, non-irritating scent. 
This product contains; 
No soaps or silicones
No parabens, SLS, SLES or PEGS
No synthetic fragrances
No animal testing
Ingredients: Purified water, cleanser derived from vegetable and Coconut oils, Coconut Water, Chamomile, Geranium, Sandalwood, Vitamins A & E, Argan Oil, Sweet Almond Oil, Zea Mays Oil, Ethylhexyglycerin, Lactic Acid (vegan).
Note: All Stinky Dog products are recommended for use on healthy pets.  We do not recommend their use on pets with acute or chronic skin conditions, itching, flakiness, redness or persisting strong odours.  If so, please consult your Vet.   
Little doggie loved it ……so did I
Shampoo was so gentle - lathered well but didn't tangle little doggies fur - found a winner :)
Great shampoo
Smells really nice, is gentle and really cleans my dog's coat. He's an Amstaff, so short coat and not generally a stinky dog (unless he rolls in gross or swims in the yucky lake), but smells lovely and looked silky after using this shampoo. Customer service was amazing. We had an an incorrect product delivered, but straight away the correct one was shipped out and we even got to keep the incorrect product without having to return it. My friend's long-haired actually stinky dog is loving the Grooming Spray!
Highly recommend these products to anyone. Amazing range, and the packaging is divine!
Not stinky any more.Shiny
Love it great for my bulldogs .
Wonderful Products!
My little Frida always ends up smelling so beautiful! When family and friends visit they always comments how wonderful she smells. Highly recommended these wonderful products.