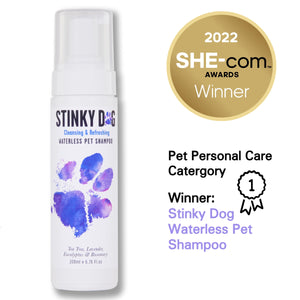 I'm cute and cuddly BUT, I'm stinky!
Are you ready for a grooming game-changer?!

Stinky Dog Waterless Pet Shampoo has been professionally formulated to gently cleanse and refresh your furry friend's coat and skin WITHOUT the use of water! Professionally formulated with natural extracts and essential oils, this product will cleanse and refresh your dog's coat, leaving them with a refreshing aroma. And no wetting or rinsing is required! 
What are the Benefits

Stinky Dog Waterless Pet Shampoo has a mild cleansing base to maintain healthy skin and optimal coat health
It refreshes the coat and adds vitality back to dry and lack-lustre coats
Leaves the coat refreshed and deodorised
It contains natural essential oils that help to sanitise and neutralise odours. Leaves no irritating residue and has a mild acting formulation that is suitable for all breeds and puppies
It's perfect for bath fearful friends, time poor paw-rents and pets on the go!
How to Use
Pump foam directly onto your pets' coat, work it into the coat with your hands and then brush through. Towel off any excess if required or leave to dry naturally. For best results, follow with Stinky Dog Pet Cleansing & Refreshing Grooming Spray.
Our Products Are
Made with plant extracts and natural Australian essential oils
Not tested on animals
Paraben and dye free
Made in Australia and
Have recyclable packaging
Have a Feline Friend or Sensitive Dog?
We haven't forgotten our feline friends and you can shop our Cat & Kitten Waterless Shampoo here. This version is also suitable for dogs, puppies or humans who prefer less fragrance, less essential oil fragrance and a gentler option. 
Ingredients: Water, SLS free cleansing base, Tea Tree Oil, Eucalyptus, Rosemary Oil, Lavender Oil, Fragrance, Sunscreen, paraben-free preservative.

Note: All Stinky Dog products are recommended for use on healthy pets.  We do not recommend their use on pets with acute or chronic skin conditions, itching, flakiness, redness or persisting strong odours.  If so, please consult your Vet.   
Made in loving memory of Leo and for furry friends in need.
VIDEO CREDIT: @alfie.and.bowie.thespaniels
No more smelly dog
This product was amazing. No more smelly dog! My dog lived it.
Good
Works well dog doesn't mind it
Gorgeous scent
Absolutely perfect for in between washes on our two huskies. The scent of so lovely too.
Great product
Easy to use, smells great and doesn't upset the princess too much on these cold days when she needs a freshen up. She also feels so soft afterwards and has had no itching or reaction despite having sensitive skin. Love it! Thankyou too for the Fish Jerky treats, what a winner!
Amazing product
This product is amazing it does what it says it will do this product is amazing for my dog as he absolutely hates water on him and refuses to let us bath him it becomes a nightmare for all of us so this product helps our dog Boi Boi and us will definitely purchase again.